SoCal Sewer Construction provides a distinct blend of innovative sewer system repair technologies with tried-and-true methods that have never failed us.
We take on jobs that other sewer repair services cannot do. Don't believe us? We've earned our permit to work in the public right-of-way — meaning, we've been issued a permit for construction and sewer repair/maintenance within the public right-of-way. This means we're granted usage in order to pass along a specific route through grounds or property, path or thoroughfare to fix sewer system problems.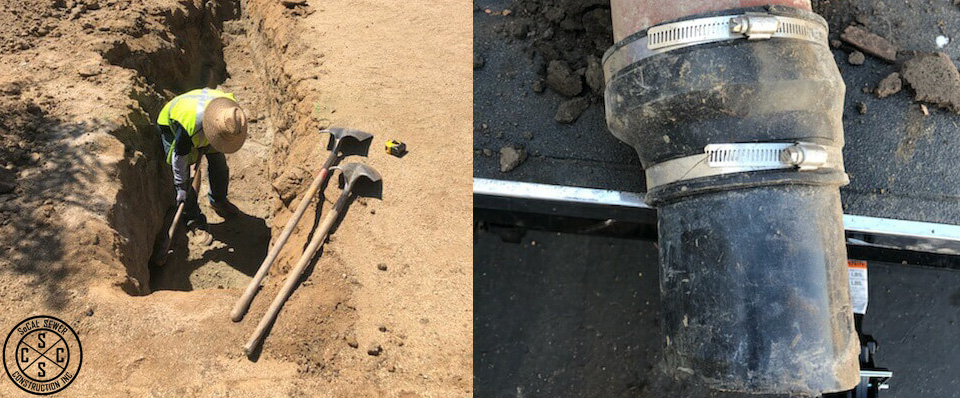 Cutting-Edge Technology
SoCal Sewer Construction incorporates sewer video inspection technology, which gives us an advantage in diagnosing problems of various degrees.
What's that mean for you? Don't you want the latest innovations if they're available? Camera inspection helps us better identify plumbing problems while cutting out unreliable guesswork.
A vast majority of your plumbing system is hidden from view — much of it can be difficult or darn near impossible to reach without heavy manpower and expert troubleshooting.
We utilize a waterproof video camera that can give us a clear view of your sewer system. No more taking apart fixtures, pipes, or worse — just to get a proper diagnosis.
Sewer Video Inspection Benefits
We pass the following benefits to our customers by utilizing sewer video inspection:
Accuracy Check out your home or a home you're interested in purchasing with 100% accuracy. The video doesn't lie. We'll get an accurate snapshot of the situation, plumbing condition, and be able to successfully diagnose any problems.
No Getting Our Hands Dirty Which means, with camera sewer inspection, we don't have to get involved in any strenuous labor, like cutting into your walls, taking fixtures apart, or digging trenches in your well-manicured lawn. Our video sewer inspection services are as non-invasive as you're going to find!
It's Preventive! Let's just say that it's far better to identify the problem before it gets worse and creates an unbearable situation that can result in leak, flood or calamity. Our plumbing cameras help identify the issues before they become bonafide epidemics. Don't let the situation spiral out of control.
Sewer video inspection also results in savings! You'll save money you'd normally spend on that expensive water bill. Utilizing our sewer video inspection services can also save you thousands in strenuous, expensive repairs and replacements down the road by identifying problems in their early stages.
SoCal Sewer Construction is your full-service sewer repair and installation company specializing in sewer systems and underground utilities. We combine old school techniques with cutting edge technologies, which helps us better identify and solve all your sewer problems while addressing all of your sewer repair and maintenance needs for your residential and commercial properties.
Contact SoCal Sewer Construction today and let's get to the bottom of your sewer system problems as swiftly and successfully as possible.